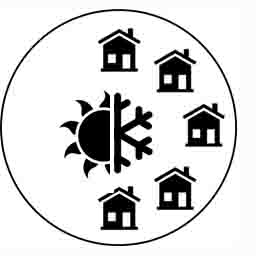 District cooling and district heating
ICV through AVK's market leadership in the infrastructure water business has a unique advantage in supplying large valves for large district cooling systems.
AVK is a leading industrial production company of Denmark, where district heating system networks are exceptionally well-developed, and where energy saving and environmental policies ensure a safe and efficient living environment. AVK and it's many fully owned industrial valve brands have been selling general valves i.e. butterfly valves for district heating systems for many years.
Likewise, in warmer climates, the use of district cooling system as a means of increased energy efficiency and environmental protection is becoming more prevalent. ICV has delivered many general valves ie. 756 double flanged double eccentric butterfly valves, series 76 concentric loose liner butterfly valves and other general valves to many systems. Balancing valves are also supplied thanks to ICV's very wide range with balancing valves up to very large sizes, tyupically manual balancing valves and differential pressure balancing valves (908). Motorized valves typically include series 756 and 76 buttefly valves ensuring seamless integration in the the SCADA control system as all standard control and feedback signals are supplied.